Father and Son/Daughter
4-Day Coachbuilding/Metal Shaping Class!
Cost for the 4-day class is $800
This slideshow requires JavaScript.
 A father and son/daughter both can attend my four day class for the cost of only one person! All of the dates for our 4-day coachbuilding class will be available to choose from. Or you can choose to work on one of the many other projects we have going on in our shop!
(Must be 12 years or older)
(Scroll below for schedule and payment)
Our coachbuilding classes are aimed at beginners to very experienced shapers that desire another perspective.
We believe the skill sets required to master the craft of sheet metal shaping should be accessible to all that want to learn. A major stumbling block is the perceived high cost of tools to do masterful work. At our class we teach all of the students that expensive large tools are not a requirement, but they are present in the shop and results can be directly compared with the equally effective but less expensive solutions.
We now have eleven English wheels, one large format double headed power hammer, one Maglio (helve hammer), four shrinker stretchers, two tipping wheels, one Trumpf nibbler with shrink dies, three arbor press shrinkers, six shrinking facilitators, six stumps, six TIG welders, two gas welders, two planishing hammers, and innumerable special tools/hand tools to aid shaping sheet metal and a lot more to come.
The classes will be about scratch building the following car projects and much more!
We will also have several large scale sculpture projects available.
Project number one: our hot rod project which is an original design hot rod with a lot of sports car lines. In process now (see pictures of current build state)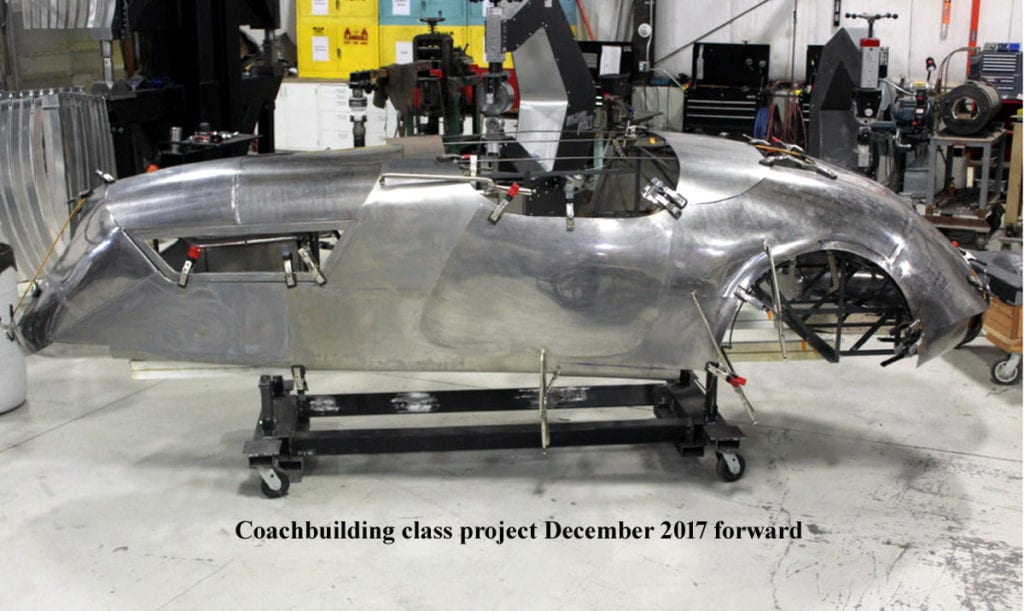 Project number two: a Virgil Exner inspired futuristic sports car from 1948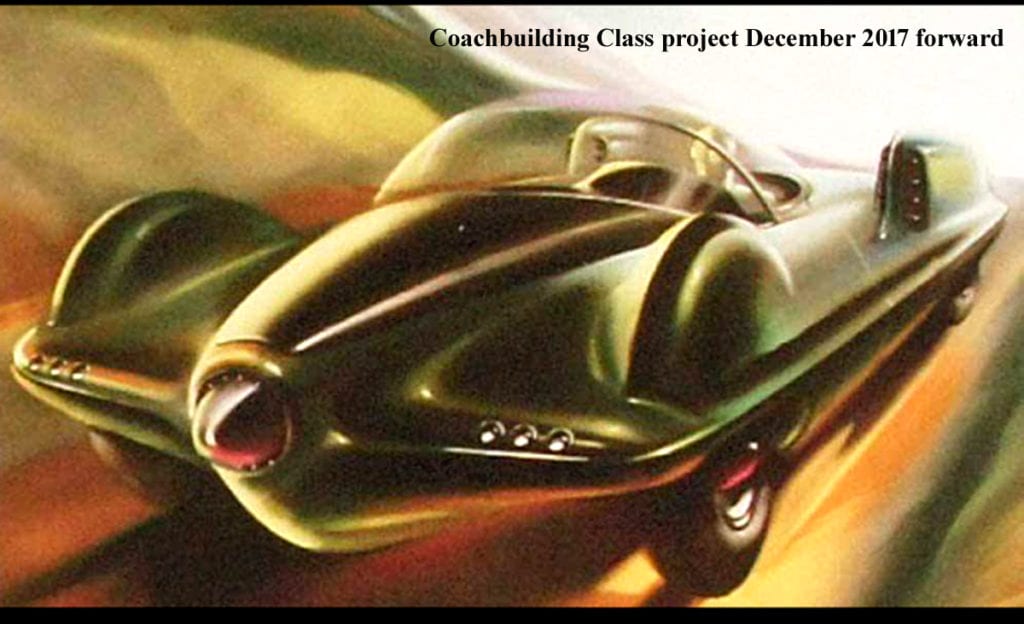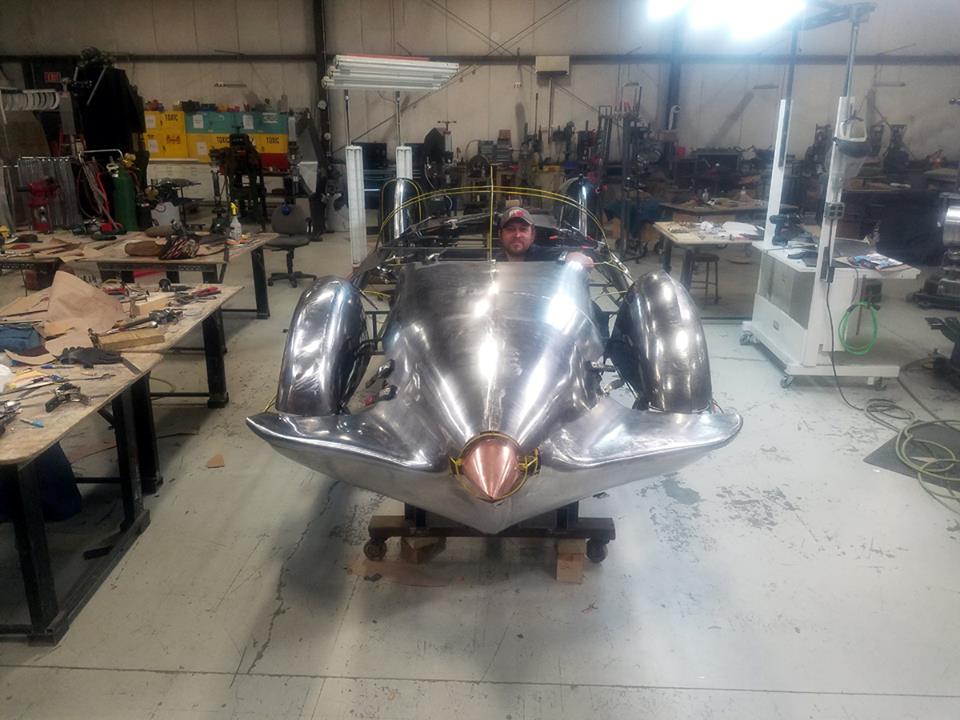 Project number three: a 300S Maserati sports racer. One of the most beautiful car designs ever made.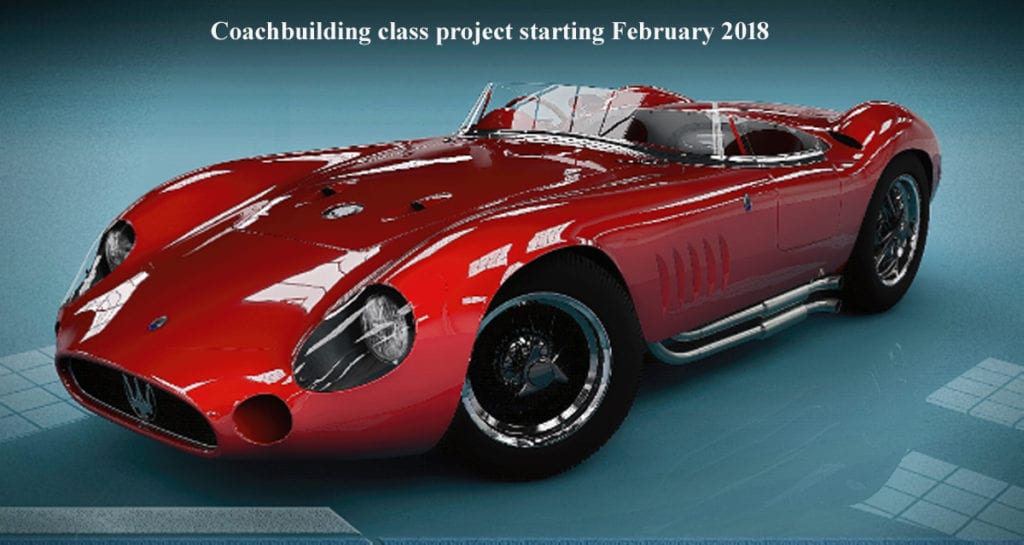 A wire form has been created.
Project number four: a 550 Porsche Spyder another example of one of the most beautiful car designs ever made. A wire form will be created by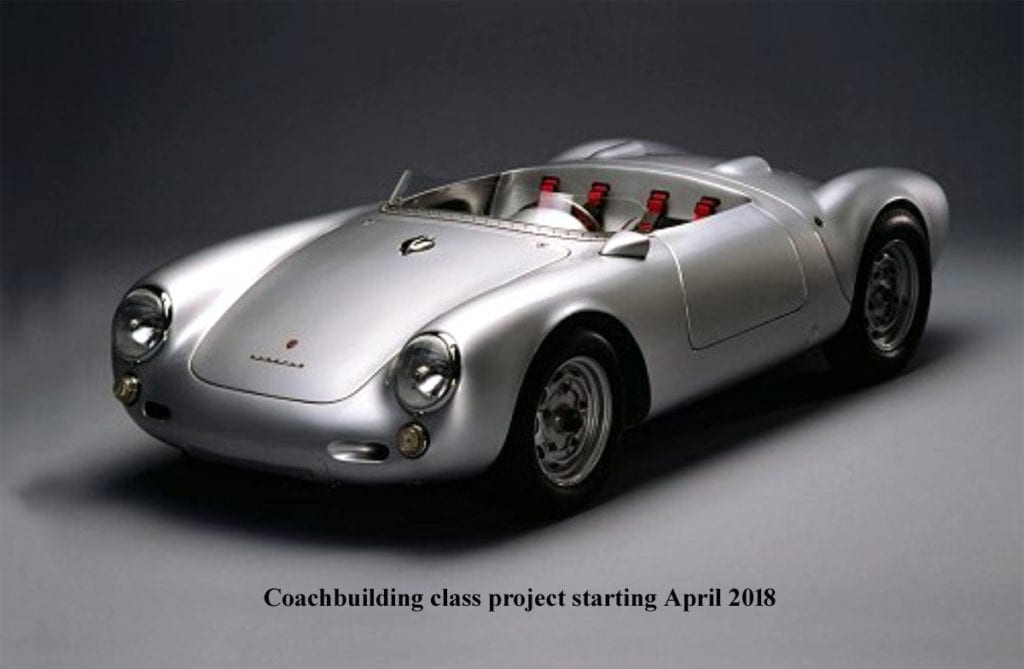 Our goal is to have at least seven wire forms of some of the world's best car designs finished for the classes to learn on by the end of the year.  
If for any reason you chose a date and cannot make it, you may change to a different date that works for you. 
If you have any other questions or concerns don't hesitate to call Wray (508) 347-7749
The classes run from Friday – Monday 9am – 10pm and can be purchased for $800 below.
4-Day Coachbuilding/Metal Shaping Class 
July 19, 20, 21, 22 
August 9, 10, 11, 12 
September 13, 14, 15, 16
October 4, 5, 6, 7 
November 1, 2, 3, 4 
December 6, 7, 8, 9
You do not need a paypal account to pay with paypal. You can simply pay the invoice by Credit card or Debit card and choose not to have your information saved with paypal.
We recommend students attending should bring a welding helmet, gloves, eye and ear protection a notepad and camera.
The class starts at
9:00am till noon

. One hour off for lunch (free lunch included everyday). Class resumes at

1:00pm

and runs through

5:30pm

.  Break one and a half hours for supper ( there are at least twenty restaurants in the area.) The class starts again at

7:00pm

and runs to till

10:00 pm

.
Accomodations:
We recommend using https://www.kayak.com/ to book your flight on Thursday (Tuesday thru Thursday are the best days to buy a plane ticket) For your stay we recommend Days Inn in Sturbridge 508 347 1978 ( 10 miles away) offers my students their corporate rate ( around $60.00 per night you must mention you are attending the class)  The Days Inn is an excellent motel, I have had zero negative feedback from students. There are at least 20 other motels in the area to choose from.
What you will learn at the Class:
Design and Bucks:
Discussion and demonstration of the different methods used to develop a shape.
Wood bucks
Metal bucks
Flexible shape patterns
Wireforms
Tools:
Discussion and demonstration of the full spectrum of tools available to shape sheet metal.
Costs
Space requirements
Shop made tooling
Noise factors
Welding methods:
How to create a perfect butt joint.
How to make a perfect weld that when done is invisible on both sides of the panel.
How to remove the distortion in the sheet caused by the heat.
How to properly grind and finish welds.
Shaping methods:
Discussion and demonstration of the many ways to shrink and stretch sheet metal.
Standard compound curves
Reverse compound curves
Shearing methods
Different methods used around the world
Details:
How to add beads, beltlines, joggles, raised sections, wired edges, flanges, hems, etc.
Finishing:
Methods used to finish a panel so no filler is needed.
Here are a few pictures from previous classes, more pictures from our past classes can be found in our photo gallery.